Skilled diplomat/tactician – addressing political situations and or conflict.
Counsellor/devil's advocate – being able to come up with reasons not to follow a particular path.
Problem Analyst – being able to solve problems efficiently and effectively.
Technical wizard – having a specific and specialised skill which is required at the time.
Project manager – managing a project on behalf of the client or simply managing the consulting project/intervention.
Interim executive/contractor – being asked to fulfill a line role within the clients organization.
Facilitator – Workshop, learning or team facilitator.
Other roles – Coach, Mentor, Advisor, Expert, Strategist, Teacher
Reputation of Management Consultants
Is this your view of a consultant?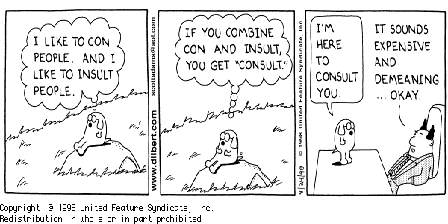 Reputational issues
Good or bad experiences with consultants in the past.
Consultants can be their own worst enemies due to behaviour or arrogance.
Client does not always know how to measure value because this is an intangible service where perceptions may rule.
Consultant does not always meet client expectations. This can be due to a lack of clarification or poor communication.
How does this relate to the concept of "professionalism"? Note this for yourself
Required Capabilities & Competencies
A consultant needs to have a broad range of competencies which are grouped according to the international competence framework.
The ability to consult and advise decision makers
General management competencies and a deep understanding of how businesses operate
Specialist competencies which include specific functional and sectoral competencies
Personal and Interpersonal and communication skills (listening/verbal/written)
Marketing, influencing, rapport building and selling skills
Project and team management skills
Professionalism and ethics (the ability to build trust) and the related behaviours
Practice management skills (at least knowledge of the commercial aspects of consulting)
Continuous Self Development and keeping up-to-date with current events and trends
Quick on their feet and action orientated
Suitably qualified in the area in which he/she consults